With your Zenfolio account, we offer
Custom Pages
that can be used to fulfill the general needs of a photography website. Custom Pages are highly customizable, even down to the HTML level, so you can use it to communicate a message to your clients outside of your gallery pages.
Here are just a few examples of how Custom Pages can be used:
Display your Products offered and their Prices
​
Display a Testimonials page
Display an Engagements page
​
Display Directions to your Studio

Custom Pages are a blank slate. With the exception of elements displayed on your entire site, such as the Header and Footer, the entire content area of the custom page is available for you to display your information.

You are free to create the entire content on the page through our built in Custom Page interface, or by manual coding the HTML code of the content area of the page. While you do have the option to manually code your pages, the code itself cannot be supported though our customer support.

Please also see these guides for more information on the different options available in creating your Custom Page:

If you are interested in more details on the Custom Page content interface, see the Formatting Toolbar article.
For more information on how to embed content into a Custom Page, please see this link.
For additional help in using Tables in Custom Pages, see this link.

For a video presentation on creating Custom Pages, click on the Play button below.



Create a Custom Page
In Edit View click on Website Pages under the Organizer.
Select Custom Pages
Click Create New
In the Title field enter the name of your page. A Friendly URL will be generated in the URL field that can be used for linking from external webpages.
Check/Uncheck Allow indexing by search engines. If your content is useful to visitors and will help with Search Engine Optimization, we highly recommend leaving this checked.
Enter your Content in the content field. The formatting toolbar had a number of options to assist you.
Enter your META description in the text field. Your META Description is used by search engines to help catalogue your web page correctly. It is not seen by visitors. Adding a useful description or keywords will help with Search Engine Optimization (SEO).
Click Save to save your changes or click Save and Preview to save and review your Custom Page.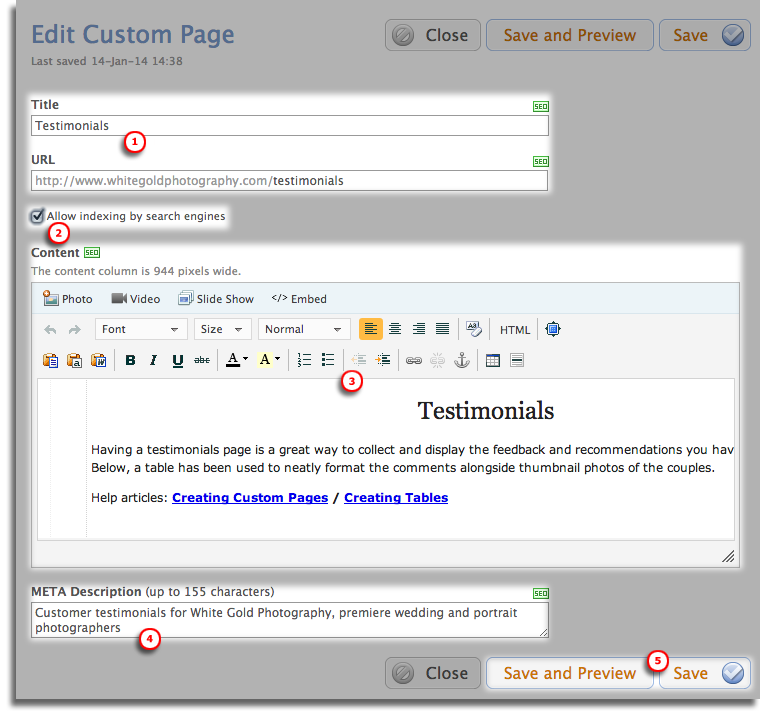 If you have multiple items on a single custom page, we highly recommend using tables to design the layout of the page. First, create a table and then you can create as many cells inside the table as needed. Then inside each cell, you can add a variety of media - text, photos, videos, embeddable slideshows, and other embeddable items. By right-clicking on the table, you will also be able to customize its properties such as border size, header, caption etc...

It may take a bit of experimentation, but this is generally the easiest way to align and organize different items on a custom page.

See this link for more details on using Tables in a Custom Page.

​Customize the Custom Page Presentation
Once the page has been created, it will still need to be customized. Like all the other pages in your site, Custom Pages will be customized from a selection of Themes and Options.
In Edit View click on Website Pages under the Organizer.
Select Custom Pages
Click Customize

The page will refresh with a new customization menu at the top and a yellow outline around the page, confirming that you are in the customization mode. From here you can go to Theme to change the theme applied to this page or go to Options to Show or Hide various page elements.

Add Custom Page to Site Menu
In order for the Custom Page to be accessible to your site visitors, you must add the page to the Site Menu. The Custom Pages that you create will be listed under 'Built-In or Custom Pages'.